History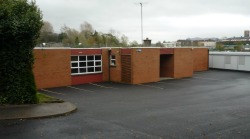 The large, attractive cut-stone building which today houses the Model Arts and Niland Gallery was originally constructed as a venue for a New Model School. The school was officially opened in the first week of September, 1863.
The school was divided into two halves, for boys and girls, and had separate quarters for the master and teaching staff. The first headmaster was James Feehan, the headmistress was Miss Monds, and by 1890, the numbers attending the school were 296 pupils, with an average daily attendance of 158. The denominational breakdown was; 163 Church of Ireland pupils, 34 Presbyterian , 16 Roman Catholic and 83 of other non-conformists denominations. However, the lack of support by the Catholic hierarchy for a multi-denominational educational establishment led to very small number of Catholics attending the Model School and it gradually became in effect a Protestant Co-educational School.

The school was under the direct control of the Minister for Education. The Inspectors' Offices were also housed in the building and the local school inspector acted as manager up until the mid- 1980s. In 1962 and 1967, two small Church of Ireland National Schools, namely Ballinorley in Calry and Milltown National School in Drumcliffe were amalgamated with the Model School.
In 1977 the Model School students moved across the road into a new building in the grounds of Sligo Grammar School. Named Carbury School, it had an enrolment of about 150 pupils.
The school acquired a small amount of extra land from the Grammar School in the mid-1990s and significant work was undertaken on the grounds to improve the outside space and playground area. Demand for enrolment places continued to grow and after lengthy and at times, arduous deliberations with the Department of Education and Science, the pupils moved into temporary accommodation on the Clarion Road at the end of October 2011. The 1977 building was demolished and a new eight classroom, two storey building with all modern facilities was built. The pupils moved, for the last time, into their lovely new school in March 2013 with its spacious, bright, south-facing classrooms, overlooking the Garavogue River and weir.
Carbury School has a teaching staff of twelve and has in excess of two hundred pupils on roll and is capped by the D.E.S. at its current size.